Beauty Consumers Survey: Has the Pandemic Changed Beauty Retail Forever?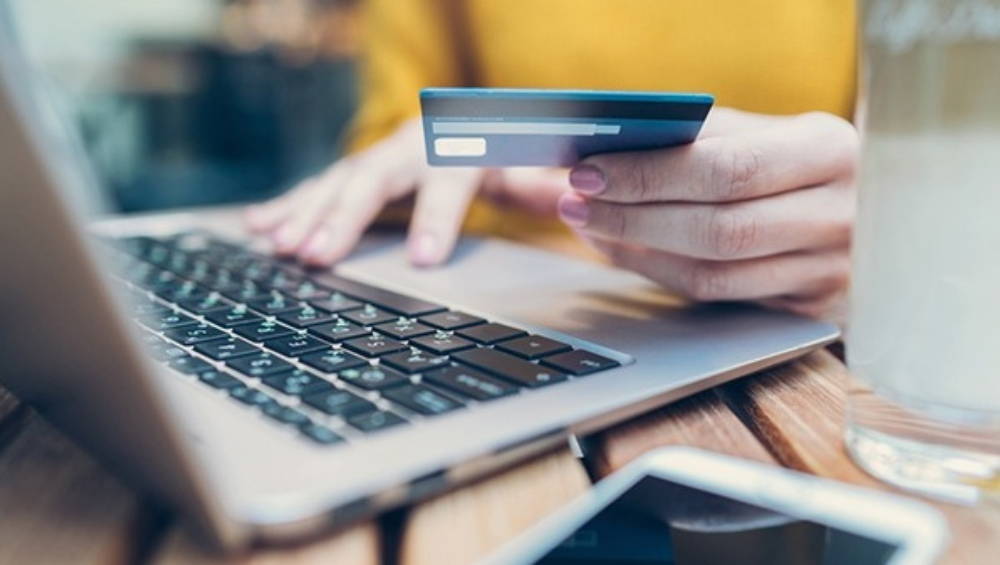 Over the past year, the pandemic has changed the way we do almost everything — including shopping for our favorite beauty products. We were interested to see how beauty consumers have adapted their shopping habits, and gauge their overall opinions and experiences are when it comes to shopping online vs. shopping in physical stores. We asked our community of beauty lovers to complete a survey, and we were able to extract some interesting key insights using the data submitted by 221 respondents.
GENDER
97.2% female
2.3% male
0.5% non-binary
AGE GROUP
20.3% age 25-34
29.5% age 35-44
23.5% age 45-54
18.4% age 55-64
PERSONAL INCOME
43.5% less than $50,000
26.2% between $50,000 - $74,999
13.1% between $75,000 - $99,999
15% between $100,000 - $249,999
TOP 3 REASONS WHY CONSUMERS LIKE SHOPPING FOR BEAUTY PRODUCTS IN PHYSICAL STORES:
Being able to see, feel, and try on products in person before buying
Getting a product immediately rather than waiting for delivery
Requesting a product sample to take home
TOP 3 REASONS WHY CONSUMERS LIKE SHOPPING FOR BEAUTY PRODUCTS ONLINE:
Being able to shop from anywhere, at anytime
Seeing product reviews and ratings
Searching for brands/products quickly and easily
"The pandemic has caused me to enjoy shopping in a physical store more than before. I love being able to see, feel, smell and sample the products I purchase." – Jennifer G.
One of the most interesting takeaways of this survey was learning the beauty consumer's feelings toward being able to physically see, feel, and test a product before deciding to purchase it. On a scale of 1 to 5, an overwhelming 80.4% of respondence indicated that being able to physically experience a product before buying is extremely important to them (either 4 or 5 on the scale). Similarly, when asked to specify which aspects of shopping in physical stores they enjoy most, the number one answer was being able to see, feel, and try on products in person before buying. Contrary to a lot of the buzz we've been hearing about how brick and mortar retail is dead, the consumers themselves are telling us otherwise!
"I don't feel very safe/clean touching using testers. I am okay with sealed products. I still do like going in person so I can see how big the product is, the actual colors and just the overall environment." – Jenny N.
Of course, with the pandemic, the ability to touch and try products in person has changed drastically. We were interested to learn how beauty shoppers' opinions on product testers have changed as a result of the pandemic. There was a pretty dramatic split in the responses when we asked how shoppers will approach the use of beauty product testers now that stores are opening back up. The majority answer at 42.5% said that they will only be using product testers if they are fully sanitized immediately before use; 33.5% said they will avoid using testers altogether for the foreseeable future; and lastly, 24% said they will continue using product testers as they always have. The takeaway here is that people are still very much interested in being able to test products before they purchase, however, the concern for safety and sanitation as a result of the pandemic has increased. As a follow-up to this question, we asked people to rate their level of concern about the sanitation of product testers in beauty stores, and an overwhelming 85.9% of respondents answered 3/5 or above, with 5/5 being the majority — meaning that there is definitely still an overall concern for safety in regard to COVID-19.
"[I'm] a little more concerned about sanitization, but still prefer at least being able to look at cosmetics and hold them up to my skin in real life." – Maureen C.
---
One of the biggest questions that we have is, did the pandemic change the shopping habits of beauty consumers? And if so, will this change in habits outlast the pandemic and continue indefinitely?
We asked beauty shoppers how often they shopped for beauty products in physical stores before, during, and after the pandemic, and here's how they responded (see figure below). Approximately 62% of respondents indicated that before the pandemic, they shopped in physical stores often or all the time; by no surprise, that number dropped to 12% during the pandemic; and now, after the pandemic, that number has crawled upward to 27%. These results show us that people are definitely not shopping for beauty products in physical stores as often as they did pre-pandemic — maybe because the pandemic isn't fully over, maybe because they found that they enjoy shopping online more, or maybe a combination of many factors — but the reality stands that consumer shopping habits have changed for the long haul.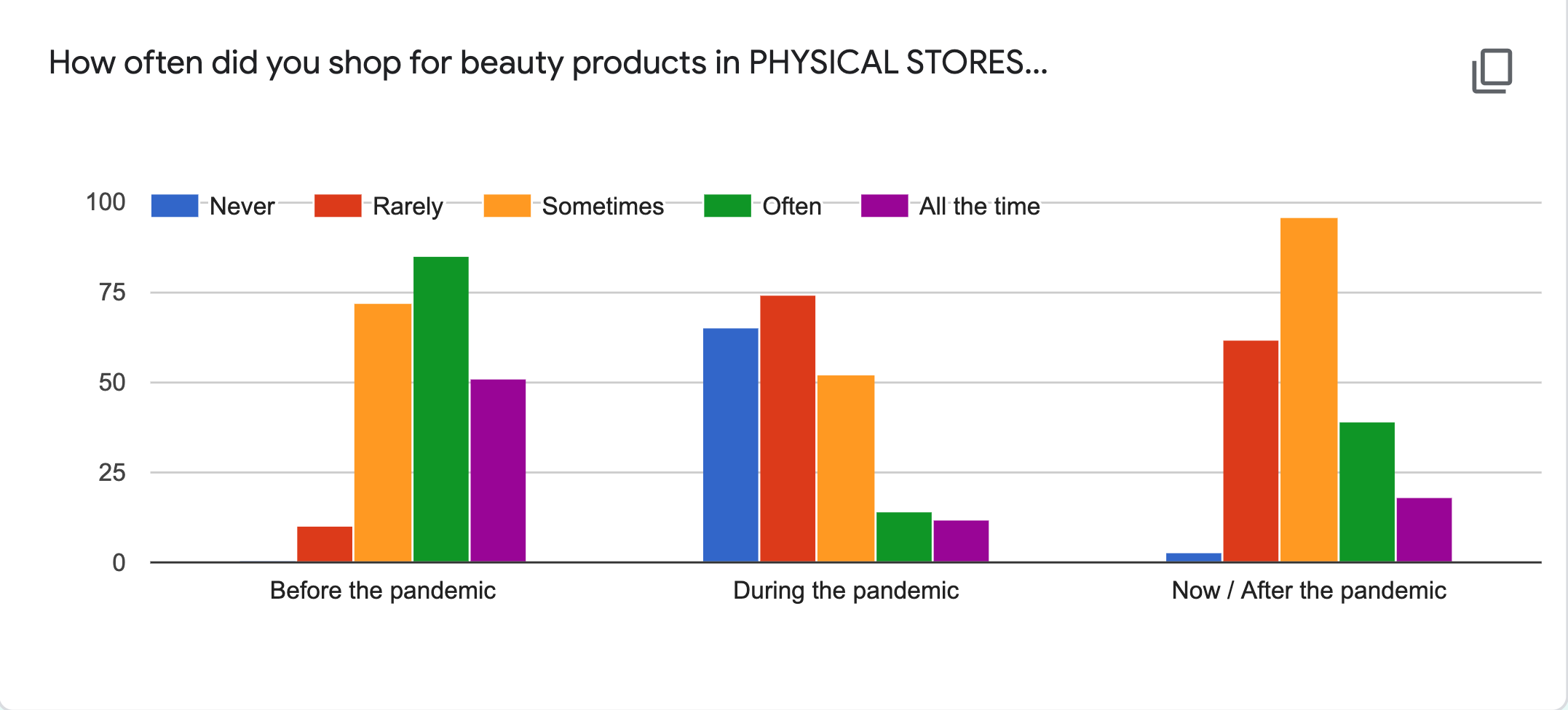 Similarly, we asked beauty shoppers how often they shopped for beauty products online before, during, and after the pandemic to compare the results, and here's what they said (see figure below). This time, only 34% of respondents indicated that before the pandemic, they shopped for beauty products online often or all the time; that number jumped up to 53% during the pandemic; and has decreased just slightly to 46% after the pandemic. These results align with what we observed in the previous question — beauty shopped favored physical stores before the pandemic, online shopping during the pandemic, and now that the pandemic is winding down, they are still swaying in favor of online shopping — further confirming that there has been a real shift in consumer shopping preferences.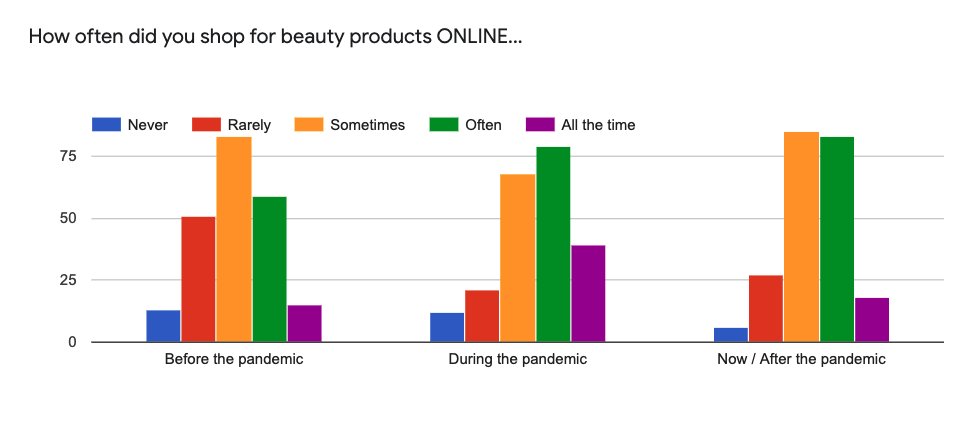 ---
Since we know that there has been a pretty major shift in preference toward shopping for beauty products online, we were curious to know which specific features or functionalities have helped improve the shopping experience for people when buying beauty products online.
TOP 3 FEATURES THAT HAVE IMPROVED THE ONLINE SHOPPING EXPERIENCE FOR BEAUTY PRODUCTS:
Personalized quizzes to find your perfect shade match, formula, etc.
Ability to live chat with beauty specialists or brand representatives
Virtual try-on technology
"I've grown to enjoy [shopping for beauty products online] much more. Being able to read reviews and engage with others online replaces the questioning that may occur in store." – April P.
One of the final questions we asked beauty shoppers was to indicate which method of shopping for beauty products they prefer the most — but rather than limiting the options to solely physical stores vs. online, we also included some hybrid options that tend to be both enjoyable and practical for shoppers post-pandemic. The results were split pretty drastically, with the majority 37% choosing online shopping; 31% choosing physical stores; 26% choosing to browse products online, then buy them from a physical store; and a small 7% choosing to browse products in a physical store, then buy them online.
"I had never really shopped online that much before the pandemic, so my opinion has changed a lot. I have since learned that just because I can't see the product in person, by shopping online I can see people that have posted before and after pictures, along with their honest thoughts about how the product worked, and some sites have virtual try-on, which is helpful when you are trying to figure out which color looks good on you. So since the pandemic, I have to say my experience and thoughts about shopping online [are] very positive, and I will continue to do so from now on." – Debbie P.
---
An interesting takeaway from the survey is that, although online shopping rose during the pandemic and although products bought online were more likely to be returned than those bought in-person, returns were still lower during the pandemic than before. Having said that, most people preferred to shop online than in physical stores, although the difference was slim. A significant amount of consumers also preferred to browse for products online, then buy them in-person, indicating a balance between the preferences.
The survey results have also indicated that consumers are hesitant about the sanitary efforts of retail stores. A significant amount of people indicated that they would only use product testers if they were sanitized before their use. Nonetheless, many people revealed that there were things about shopping in-person that online shopping simply cannot beat. Physically seeing and trying on products, for instance, is extremely important to many consumers. They also like the aspect of being able to take home products instantly rather than waiting for them to be delivered.
In the same way, many consumers feel there are elements of online shopping that retail shopping cannot compete with. The luxury of shopping from the comfort of their home, finding things through their keyboard and browsing other customers' reviews — many consumers feel these affordances are more valuable than what in-person shopping allows.
All of this to say, shopping online or in-person are two very different choices and each choice offers separate luxuries. Depending on the consumer, a certain choice is more viable and appealing. By taking these findings into account, businesses can attend to their customers' needs based on their concerns, tastes and inclinations.
---