---
DETOX CLEANSER3 by LIFTLAB SKINCARE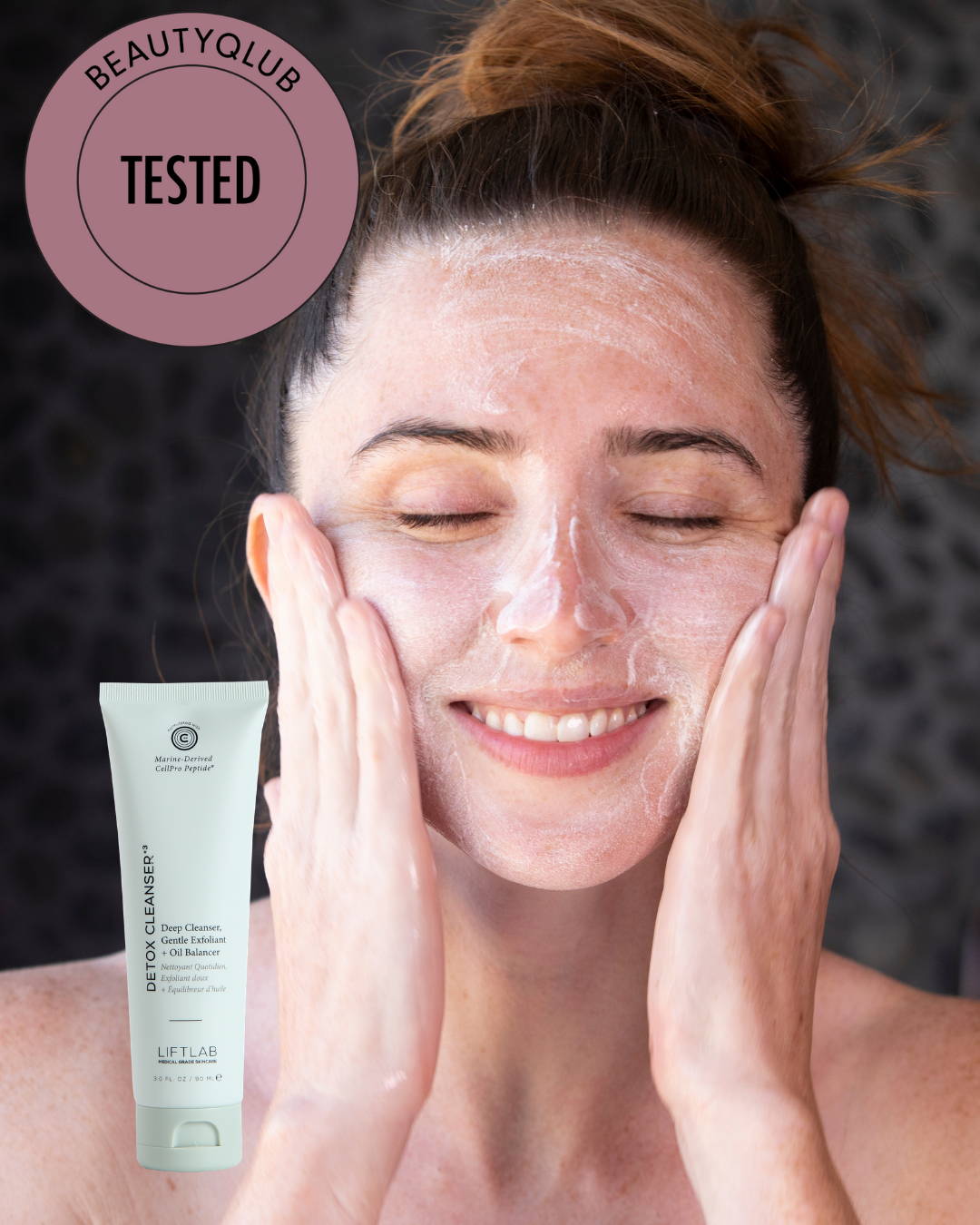 3 reasons why you will want to add this multitasking medical grade foaming cleanser to your daily routine

IT'S MULTI-TASKING
It's a cleanser + a gentle exfoliant and an oil balancer at the same time.
IT'S MEDICAL GRADE
Like all other products of the line, Detox Cleanser +3 is supercharged with lab-tested, naturally derived actives, starting with the brand's patented LIFTLAB's patented damage-reversing CellPro Peptide.
IT'S EASY TO USE AND LASTS FOREVER
The ideal face product to leave in the shower, it can be used as often as 2x's daily for cleansing plus a couple times weekly as a mask. Only one pea-size is necessary for the entire face. One tube will go up to 90 days.
and there's one more......
IT SMELLS SOOOOOO GOOD
Natural extracts of bitter orange give a boost to start the day or switch to nighttime mode. It's a fresh start, any time your skin or your mind can use one.
---
---
Here's what BeautyQlub members are saying...

LiftLab Detox Cleanser +3 offers a deep cleanser, exfoliant and an oil balance. I have use this product a little over a week. I have noticed changes to my skin. It looks brighter, firmer, cleaner, less oily and overall just better. My favorite part of this product is it did not leave my skin feeling oily like other cleaner. I also like the fact there is three products in one. It makes it much more convenient when you dont have a lot of time. There is a nice pleasant scent to the Detox Cleanser. Another plus to this product it did not over dry my skin. My overall experience with the LabLift Detox Cleanser +3 was very positive. I would definitely recommend and purchase.

Liftlab Detox Cleanser is a great deep cleanser and exfoliating product for people of all skin types. It was extremely easy to use and rinsed off well. My skin feels incredibly soft after use and feels so clean. This formula is gentle enough to use both morning and night. Detox Cleanser is free of sulfates and parabens. It is tested only on humans. I highly recommend this product as part of your daily skincare routine.

I love using this in the shower on a daily basis, I just love how clean and energized my skin feels all day after washing.

This Detox Cleanser +3 is AMAZING! I'm using just a small drop of this cleanser every night and it really cleans my entire face throughly. The skin is getting brighter, healthier, and appears less oily but vibrant and glowing nicely. My skin is getting tighter after each use due to the effectiveness of removing impurities and excessive oil on the skin. I did not get any skin reaction from it. Thanks for the sample and it is indeed the best cleanser that I really LOVE.
---
Why a medical grade, multifunctional cleanser is good for the skin

Q&A with Sarah Pajaro
National esthetician and trainer, LIFTLAB Skincare
---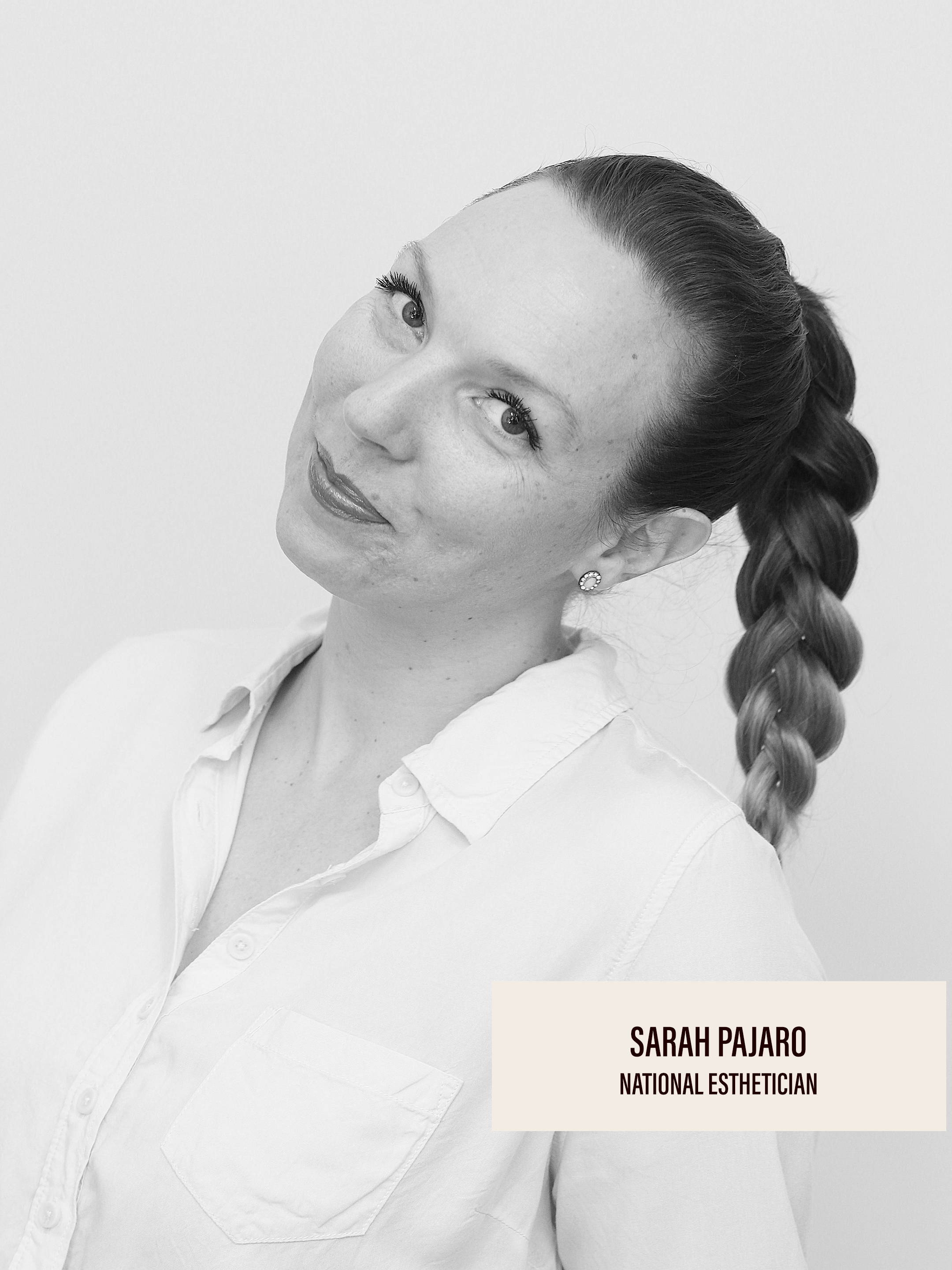 1. What is CELL PROTECTION PEPTIDE®?
Twenty-five years ago the founding scientists of LIFTLAB Skincare discovered how plants and animals survive the harsh cold of the Arctic and extreme heat of the desert: they produce a unique protein that protects them from environmental dangers and helps them heal more quickly than their counterparts elsewhere in the world - an antifreeze protein called Cell Protection Peptide®, or CPP® for short.
2. What makes DETOX CLEANSER3 different?
Anyone can use it! Our medical grade ingredients make it compatible with all skin types. Oily skin is cleansed without stripping and dry skin is conditioned after every use. It is even safe to use in conjunction with professional skin treatments and active exfoliants. In fact, by balancing the skin's surface, you'll notice the rest of your skincare routine will be more effective.
3. How do you recommend people should use DETOX CLEANSER3 for maximum benefits? 
Using 2x's daily will gently and gradually remove the buildup of dead skin cells that cause dehydration, irritation and a dull skintone. Remember to use light pressure. Think of your fingers as a paint brush and let the technology in your cleanser do the work. Pressure doesn't help, it only creates inflammation that leads to premature aging. Morning and night, foam a pea-sized of Cleanser with warm water and gently massage in circles over damp skin, then rinse. For a deeper clean and to exfoliate, activate as above and leave on for 5 minutes before rinsing.
---
DETOX CLEANSER3
by LIFTLAB SKINCARE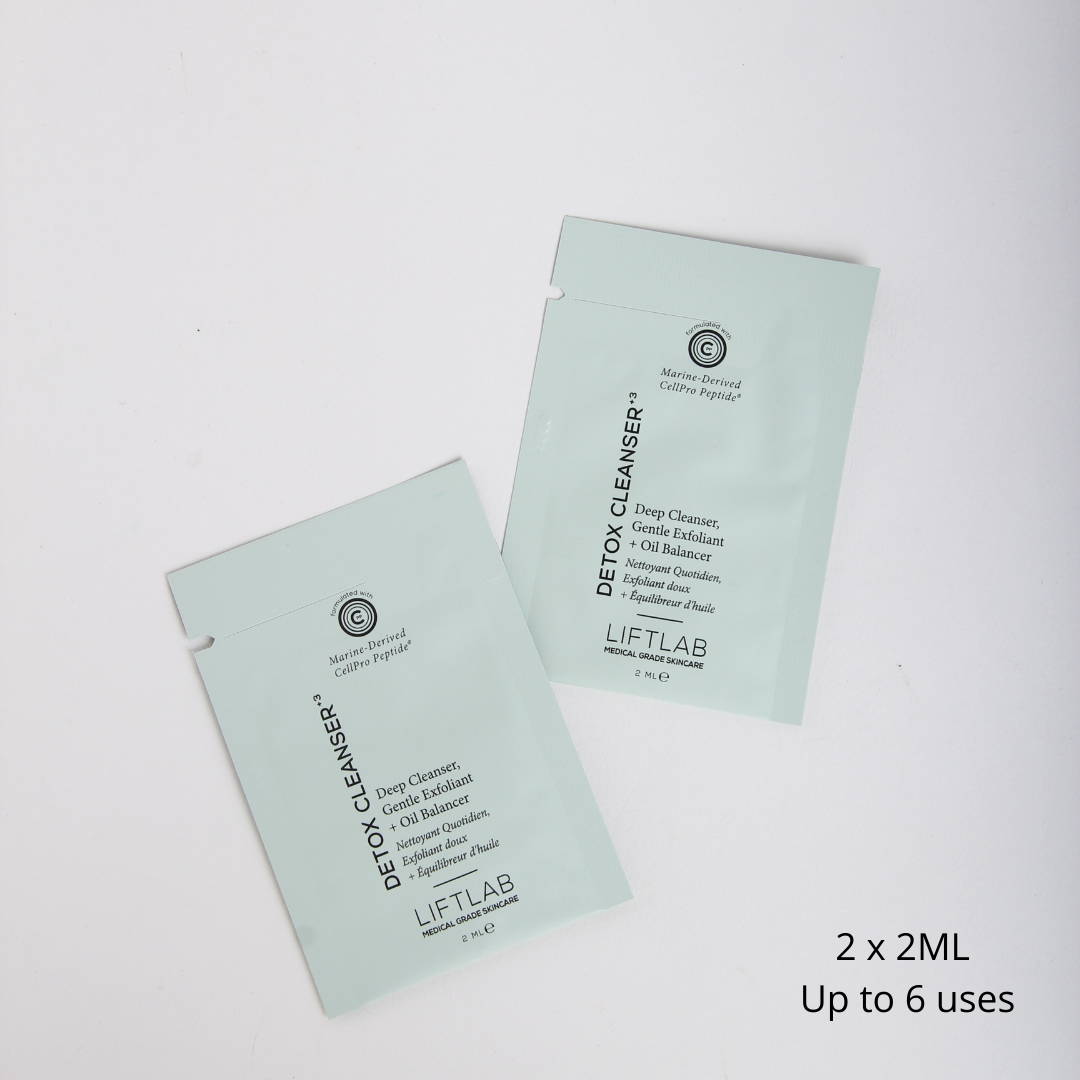 TRY IT FREE*
2 x 2ML PAQUETTE SAMPLE
(makes about 4-6 uses)
LIMITED QUANTITIES ONLY!
* $4.00 shipping fee applies
BUY IT FULL SIZE (3 FLOZ. / 90ML)
AND RECEIVE 2 FREE GIFTS ($45.00 RETAIL VALUE)
Face Serum Lift + Repair 7ML
Face Serum Lift + Fix 10ML
$58.00
Free domestic ground shipping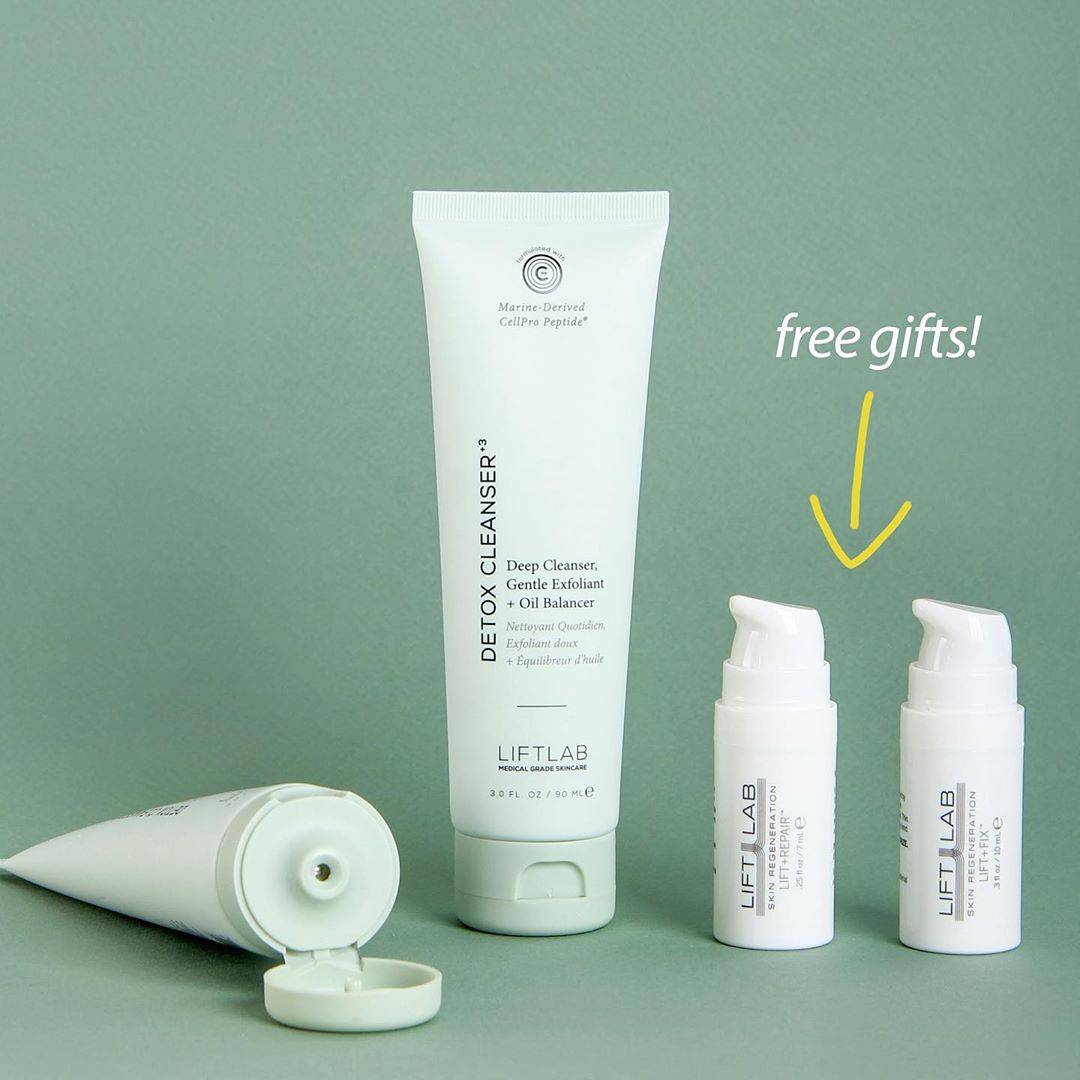 ---
LIFTLAB Skincare with CellPro Peptide is clinically proven to work with skin's natural cycles of renewal to protect, strengthen, and keep your skin healthy and vibrant. LIFTLAB skincare products empower your skin to produce its own natural proteins to protect against cold and heat damage, pollutants that oxidize and age your skin and chemical imbalances that cause redness and irritation. LIFTLAB products increase the amount of moisture, collagen, and elastin in treated skin for a healthier, younger appearance at any age. And skin as resilient as you are. Patented CellPro Peptide, the critical active found only in LIFTLAB products, is clinically proven by science, medicine and Mother Nature. Inspired by its role in nature — to protect natural life in extreme environments - our scientists found CellPro Peptide helps cells to heal and regenerate. Working with doctors, we have used CellPro Peptide to preserve the viability of organs and tissue for life-saving transplants since 1992. LIFTLAB Skincare. Healthy Skin. Clinically Proven.