---
FOUNDERS NAMES
Mar Cavalone & Geneva Fong
LOCATION
Chicago, IL (USA)
THE BRAND'S MOTTO
Clean Beautiful You
---
MEET THE (CO)FOUNDER: Geneva FONG
The (short) story behind the brand
The mission behind the brand
What makes the brand and products so unique
---
FEATURED PRODUCT: Black Magic Magnetic Mascara
What it is: a multiple award-winning black mascara, with an advanced formula that combines aesthetic and treatment benefits
Why we love it: its uniquely designed brush allows for a full coverage of all lashes in just one stroke, its 100% clean formula will give the lashes length, volume and and intense pigmentation, while leaving them soft and healthy.
How much it costs: $22.00
---

I love this mascara. It has a dry formula (but not crusty) which I love. It's super black and stays put all day with no flaking or smudging. My lashes look so full yet fluttery and natural!
N.
This mascara is easy to apply. It stays put in your lashes all day. Your lashes will look beautiful! It doesn't smudge too much. It removes nicely with any makeup remover. It gets a bit lumpy in the tube if not used every day. It is one of the best mascaras out there.
Style O.
I'm a mascara junkie so I was super excited to try this one out. It adds tons of length and volume, two of the main things I look for in mascaras. I ditched my Urban Decay mascara and have been using this one instead ;) Plus - it doesn't flake. (The packaging is also chic and simple, 5 stars!)
---
dome BEAUTY's approach to 360-degree clean beauty


At dome BEAUTY our focus on clean beauty is paramount to who we are. Our mission of unity in beauty is to provide clean beauty options for everyone at every touch point. We accomplish this with our 360° approach to clean beauty focused on these 4 key areas:
Products – Packaging – Application – Unity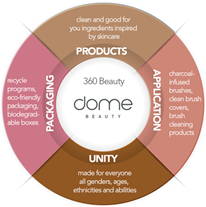 Products: 
Our base line is to be EU REACH compliant, the EU bans over 1300 ingredients to the US which only bans approximately 30. We are also Credo, Sephora, HSN/QVC clean. In addition to being clean we also infuse all our products with skin loving ingredients for skincare inspired benefits.
Fun Fact: Our 3-D domed design approach to develop our brushes is how we came up with our cleaver name! With a focus on clean application, we infused our brushes with charcoal to provide anti-microbial properties in between cleanings. We also developed our "patent pending" brush cover, it hugs the brush when not in use, protect the fibers and keep the brush clean from dust, dirt and product residue from other brushes. An added benefit of these covers, they are made of washable neoprene/spandex fabric.
Packaging: Our packaging approach is 3-fold.
Packaging- eco-friendly primary packaging such as re-fillables, rice husk compacts, paper palettes, and PCR materials for our products.  

Boxes - We use FSC (forest stewardship council) biodegradable paper and soy or food-grade ink on our external boxes.

Recycle - partnered with TerraCycle to offer a robust recycle program where we recycle old or empty cosmetic packaging from any brand.  
Unity:  We believe clean beauty options should be available to everyone, so we develop our products and shades to do just that. We incorporate the correct pigments and focus on understanding the needed undertones to work for everyone inclusive of all skin tones. Unity comes with open arms and dome BEAUTY's arms are always open for a Clean Beautiful You!