---
BRAND'S NAME
FRESH FACED SKIN CARE
FOUNDER'S NAME
Erica SUPPA
LOCATION
New Castle, DE (USA)
THE BRAND'S SIGNATURE
Science Inspired Beauty
---
MEET THE FOUNDER: Erica SUPPA
The (short) story behind the brand
The mission behind the brand
What makes the brand and products so unique
---
FEATURED PRODUCT: Clarity Serum

A skincare staple! Maddie
This product is necessary to my skincare routine. I use it morning and night and it's one of the only things that clears up my skin. It's one of my favorite products and I highly recommend especially for acne.
Clarity is awesome -

Kathy
This product has dramatically helped with the texture of my skin. It is clarifying without being overly drying, and it does not irritate my very reactive skin. I use it daily or every other day, and one tube lasts a long time.
Helped clear my skin -

Angela
Clarity serum does as promised and then some. I use it daily to reduce redness and brown spots and improve the texture of my skin. Just one pump does the job! It works beautifully and one bottle lasts almost two months. It is definitely worth the price.
---
MORE ABOUT ERICA & HER MISSION TO CLEAR & BEAUTIFUL SKIN
Erica's skin care and make up tips
Did you know? Cool, plain yogurt makes a great

sunburn

soother.
Using a

toner

after you cleanse allows your serums to work more effectively.
Due to their formulation,

serums

are the first skin care product you apply after cleansing.
Proper

SPF

amounts to apply: A teaspoon for the face; a shot glass amount for your body.

Mineral foundation

looks best when applied in light layers, building up to full coverage. If it is applied in a few thick or heavy applications, it sits on the skin and looks flat.

Wiping

your face after cleansing removes too much moisture and can defeat the purpose of wearing a moisturizer. Instead,

blot

gently for optimal results.
Wash in an upward, circular motion with lukewarm water to retain your

skin's moisture

.

Dark circles

? An eye cream product with Vitamin K helps dark circles and veins under the skin become less prominent.
Give your skin care products a chance to work. Use them for

4-6 weeks

before determining them ineffective.
Apply

eye cream

using your ring finger, beginning from the outer corner and working towards the inner corner.
Wash your face with

warm water

instead of hot water to avoid broken capillaries.

Puffy eyes

? Keep your eye cream refrigerated to help contract the tissue around the eye area.
When applying your

moisturizer

, massage it in rather than just wipe it on. This will increase circulation and feel good at the same time!
Washing your face with soap can strip oil from your skin and create residue build-up, leaving a dull complexion. Instead, choose a

mild cleanser

.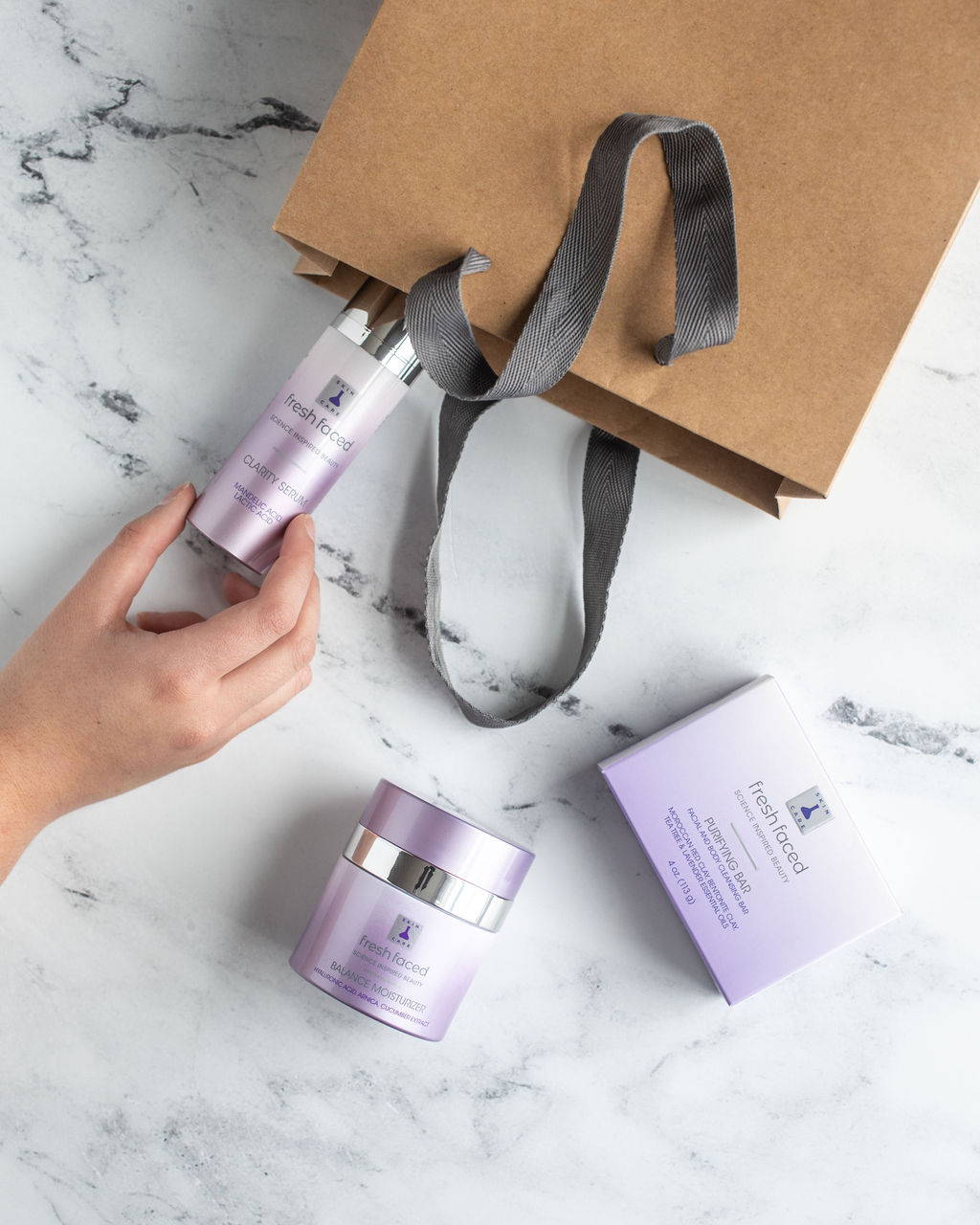 Combining Fresh Faced's Purifying soap bar, Clarity Serum and Balance Moisturizer, The Key 3 is the ultimate skincare regimen for clear and calm skin at all age, in as little as 7 days.
Like all other products in the line,The Key 3 are using only naturally derived ingredients that maintain the skin balance, and contain no glycolic acid, salicylic acid, or benzoyl peroxide.
---
As a Research Scientist and Licensed Skin Care Esthetician, with two skin care clinics of her own, Erica Suppa, the Founder of Fresh Faced Skin Care, is leading the way in transformative skin care solutions. A research scientist and a biologist, Erica created her brand as a response to the skin care industry's empty promises, expensive treatments, and the concerning trend towards medications and injections to address skin symptoms: Fresh faced Skin Care is a skin care line that naturally corrects skin care concerns without the need for prescriptions.