---
2xFOLIANT PEEL & SCRUB by PRIORI SKINCARE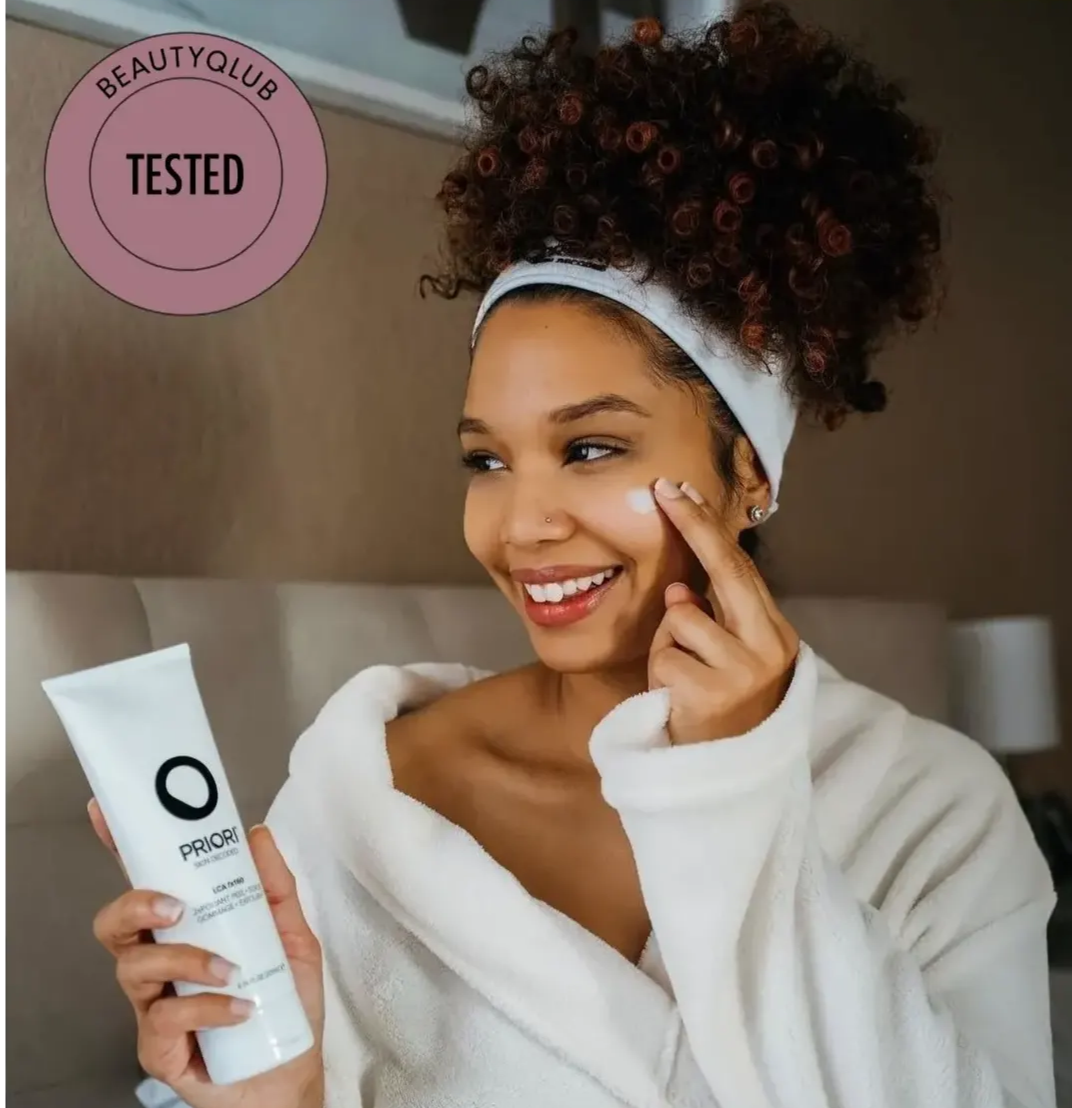 Why you're going to love this AHA exfoliator...

OPTIMUM CONCENTRATION
16% LCA Complex with pH-correct Lactic Acid for mild chemical peel and multi-layer skin renewal
FOR FACE AND BODY
The marine-friendly biodegradable microspheres are soft enough to not scratch the skin and preserve the delicate skin barrier of the face
WORKS WITH SENSITIVE SKIN
Features an anti-irritant complex for an anti-inflammatory and soothing action
---
---
Here's what BeautyQlub members are saying...

I really love face exfoliants. I like it when it hurts. seriously, i do love a good scrub that mimics a microdermabrasion, so when i tried priori face scrub, it didn't have the grit im used to. however, when i rinsed, my face had never felt softer. it was decadent. I'm not used to feeling decadent. but i could get used to this! I have used it every day since purchasing it with no irritation. This face and body scrub feels like a million bucks and has made my shower experience feel like i have more money than i know what to do with. but besides that, my skin is softer and smoother. i didn't know what i was missing.

I love my product. Its easy to use, This product made my skin feel soft and refresh. I've used it everyday and loved my results so far.

this face/body mask was amazing!! First off it was so easy to use and it left my skin so soft... I will be buying this product.. a huge fan.. thank you

I like that it's soft on the skin, yet active and it makes the skin very soft and hydrated. The grains are very small and barely there, which is great for me since my skin is too sensitive for grainy textures

Love the way it makes my skin feel soft and hydrated it is amazing....

I've noticed a huge difference within the last week of using this product! My skin feels smoother and appears brighter. It's also perfect for sensitive skin, It's not harsh at all.
---
How do AHAs work, and why they are good for your skin?

---
Q&A with Dawn Turner
Co-Founder, Medical Esthetician, Sales Director, Priori Skincare
1. Why is exfoliating particularly important at this time of year?
Proper exfoliation boosts the skin's natural exfoliation process which in turn enhances the moisture content as well as its ability to retain moisture. In addition, it plumps & increases cellular repair, improving the appearance of skin imperfections.
2. How does lactic acid compare with other AHA?
Lactic acid – AHA (Alpha Hydroxy Acid) exfoliates the skin, is best known AHA for the stimulation of hyaluronic acid in the skin, increasing hydration. Since it's natural to the human body, it's less irritating than other varieties, and it volumizes and plumps the skin.

3. How often should you use this product for optimum results? This is the ultimate product to leave in the shower, and I personally recommend using it once or twice a week for the face, by mixing a pea-sized amount with water & massaging the skin gently. It can be used daily on the body for smooth and glowing skin. Personal tip: it's the Ultimate Medi Mani & Pedi partner since it keeps heels & toes so smooth!
---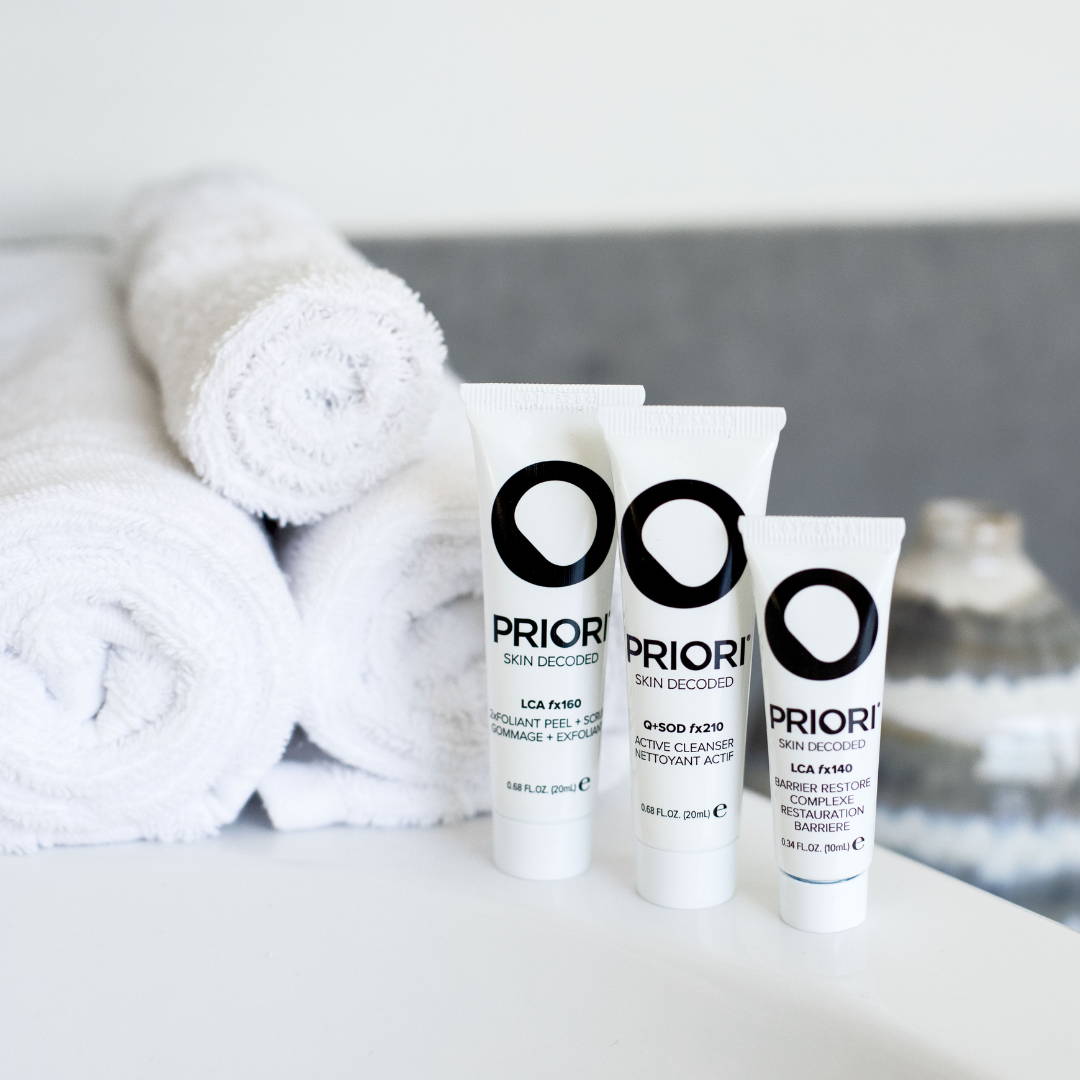 ---
At-Home Microdermabrasion System for Face and Body
2xfoliant Peel & Scrub by PRIORI SKINCARE


TRY IT FREE*
20ML DELUXE SAMPLE
LIMITED QUANTITIES ONLY!
* $4.00 shipping fee applies
BUY IT FULL SIZE (120ML) AND RECEIVE
1 COMPLIMENTARY TRAVEL SIZE OF BARRIER RESTORE
(RETAIL VALUE $18.00)
$38.00
Free domestic ground shipping
Barrier Restore Complex 10ML will be automatically added to your order (retail value $18.00)
---
As a leader in skin science, PRIORI Adaptive Skincare offers you simple and effective skin solutions that adapt to your personal needs so you can achieve your most radiant skin all day, every day. Adaptive Skincare allows each individual to receive personalized results. Powerful ingredients are combined into proprietary complexes that provide your skin with exactly what it needs, when it needs it.