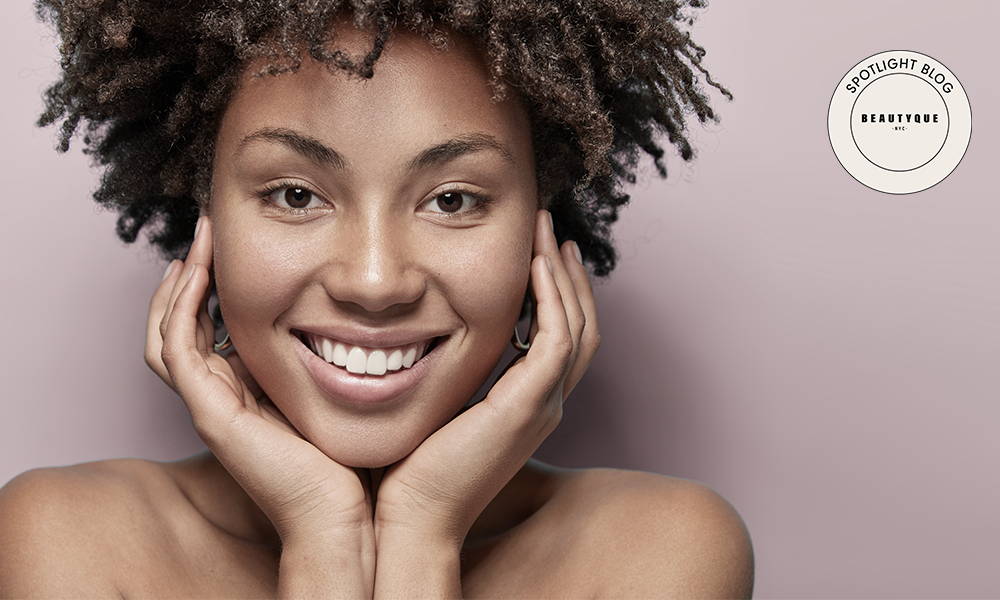 It's skincare. It's minimalism. It's skinimalism.
---
"Skinimalism" is taking a less-is-more approach to your makeup and skincare routines. As consumers of all things beauty, at some point, we've all been overwhelmed by all the new brands and products constantly flooding our news feeds. The idea behind skinimalism is to take a more minimalistic approach to your routines and the products you use. It's all about simple skincare, and letting the natural you shine through!
It seems like there's always a new skincare trend bombarding us on social media — a new 12-step regimen, a new high-tech system, a new must-have addition to an already tedious routine. When you practice skinimalism, it's quite the opposite! Skinimalism encourages us to only use the bare minimum that we need in order to keep our skin healthy.
There are SO many different types of skincare products, which can make for a lengthy routine if you choose to incorporate them all. Let's see... cleanser, exfoliator, toner, serum, treatment, moisturizer, oil, sunscreen... how do we even know our skin is absorbing it all?! With skinimalism, you should use the least amount of products possible that will still accomplish the job.
Less is more
Minimalistic makeup
Let your natural skin shine through
Simplify your routine
Least amount of products possible
---
When you really get down to the nitty-gritty of a skincare routine, the essential products you need are most likely a good cleanser and a good moisturizer (if it doesn't have SPF, then you would need to add a sunscreen as well). If you have major skin concerns, you can of course include a treatment or serum as an additional step — but when it really comes down to it, cleanser and moisturizer can be extremely versatile, and cover a lot of your bases in just two quick and simple steps.
Some of the best skincare products are multi-tasking products, or products that serve more than one purpose. These products help eliminate extraneous steps from your routine. The LCA FX160 2xFoliant Peel + Scrub from PRIORI Skincare is a good example— not only does it hydrate and exfoliate your skin at the same time, but it can also be used on the face AND the body. That knocks out several steps in one!
Another great multi-tasker is the Detox Cleanser +3 from LIFTLAB Skincare — and as the name suggests, it's actually a three-in-one! You can eliminate several extra steps from your skincare routine by using this one product to cleanse, exfoliate, and balance oil all at once.
---
While practicing skinimalism can certainly save your wallet some stress, it's also an ideology that's meant to help you embrace your natural beauty — flaws and all. With all the FaceTune, Photoshop, and filters in today's online world, you may have experienced the pressures of needing to have a perfect, airbrushed-looking complexion at all times. But as we all know — especially in the midst of a pandemic, where face masks are an everyday necessity — that just isn't realistic.
Skinimalism doesn't just have to apply to skincare — it applies to makeup, too, and any other products you use on your face and body. If you're looking to adopt the skinimalism way, but still want to smooth out and even your skin tone, we highly suggest using a tinted moisturizer. Like we said before, multi-purpose products are key! A tinted moisturizer will hydrate your skin while also giving you a minimal amount of coverage, allowing your natural skin to shine through while still giving you the confidence boost you desire. We recommend the CBD Tinted Moisturizer from Elevate CBD Cosmetics — it provides a sheer, natural glow while also brightening, minimizing pores, and soothing the skin.
If you do decide to go bare-faced, there are also amazing products you can use to bring out your skin's natural radiance and beauty. Depending on how your skin feels, you can either use an oil and a mist to bring hydration and moisture, or serum or a moisturizer if you want a thicker texture. At Beautyque, we have curated brands with a selected number of products. We believe that the shelf shouldn't be overcrowded, just like your routine shouldn't be overcrowded!
---
What are your thoughts on skinimalism? Is it something you can see yourself putting into practice, or are you super obsessed with a full-fledged skincare and makeup routine? (Which is totally fine, too!) With everything going on in the world, sometimes simplicity can do the body and mind some good. Think about what steps you can cut out of your daily routines, and embrace your natural beauty — after all, that's what we're all about at Beautyque!
---
1 comment
---
---